Augmented Collection
Accelerate cash generation with AI-powered collection!
Augmented Collection is the heart of our Order-to-Cash platform, helping teams accelerate cash generation and optimize working capital through unrivalled data insight and sophisticated automation. Aimie, our award-winning AI technology, continuously learns from over 482 million B2B payment behaviors to deliver effective, dynamic customer segmentation and recommend the best collection strategies at the right time. Aimie can also automate manual collection actions for selected segments, freeing up your credit management team to focus on VIP clients.
Sidetrade Augmented Collection is a powerful module to help you streamline your Order-to-Cash process, collect the maximum potential cash as fast as possible and significantly reduce DSO.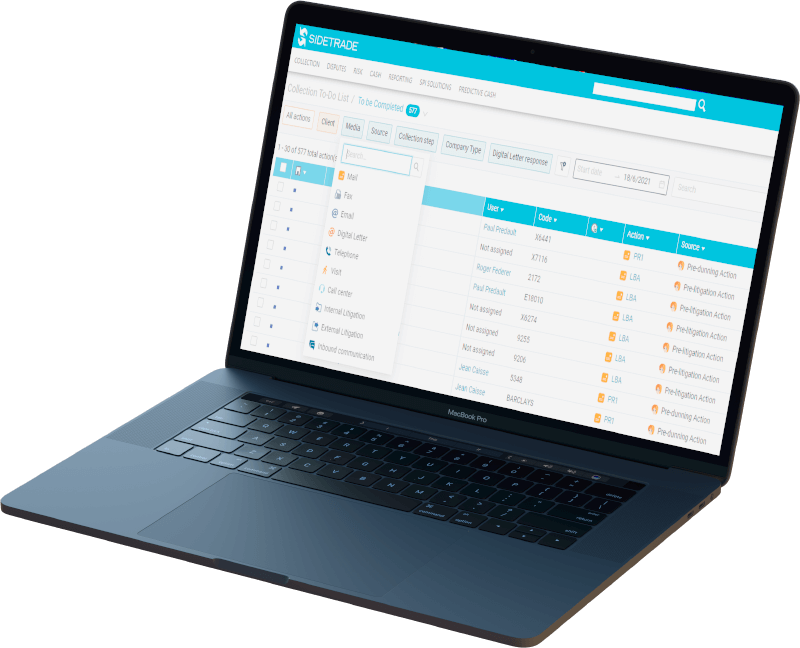 Choose effective, data-driven cash collection
Sidetrade Augmented Collection uses AI to help you optimize your cash collection process, gain actionable insights into buyer behavior, and make productivity gains of up to 57%.
Sidetrade's AI technology, Aimie, draws insight from our expansive data network, spanning more than 482 million B2B transactions, worth over $2.4 trillion, and growing by 41% year-on-year. The data covers a broad range of industries and global buyers, allowing Aimie to continuously learn from real-life payment behavior in order to predict when invoices will be paid and which collection strategies will be most successful.
Aimie also empowers Credit Managers to set smart, proactive multimedia collection strategies, use predictive insights to solve payment disputes, and automate query management and qualification. AI-powered dynamic segmentation also allows for effective workload planning, taking into consideration available resources and those actions with the highest probability of success.
By using Aimie to automate tasks for certain customer segments, such as low-value high-volume invoices, cash collection teams can focus instead on tasks that add the greatest value. Augmented Collection represents a new era in collections, replacing traditional workflows with data-driven actions derived from predictive analytics. This drives a level of automation that finance teams have struggled to achieve until now.
By digitalizing collections, the Sidetrade solution enables teams to work remotely or in-house, giving an unprecedented level of support, control and transparency to the whole process.
Collect Cash Faster
Use real-world buyer insight to deploy the best collection actions to generate cash
Make productivity gains of over 50% through effective automation
Free your agents to focus on higher value activities by automating manual tasks
Prioritize the right accounts that are most likely to respond to collection actions
POST
Hitting the mark – managing cash collection targets
WHITEPAPER
Supercharge your Cash Collection Performance
POST
New data report: how Aimie AI measures up to human cash collectors
Augmented Collection Modules
Cash Target
Cash Target helps collection teams keep their eyes on the prize. Introduce friendly competition into your teams and focus on achievement by setting cash collection targets at both individual and team level depending on role. Monitor progress and performance towards your KPIs with detailed dashboards, covering targets, total collectable amount, total cleared amount, total cash in, and more.
Integrated within Sidetrade Augmented Cash, it gives your cash collectors a streamlined system to effectively manage, measure and take action on collection activities.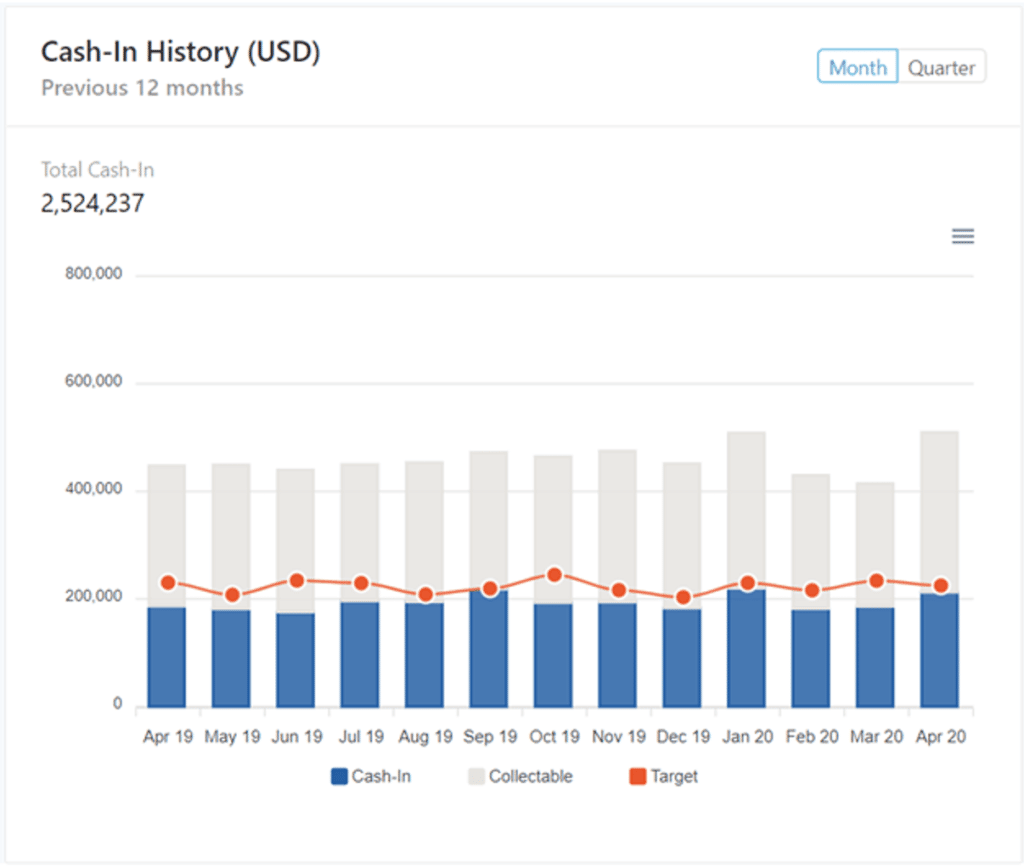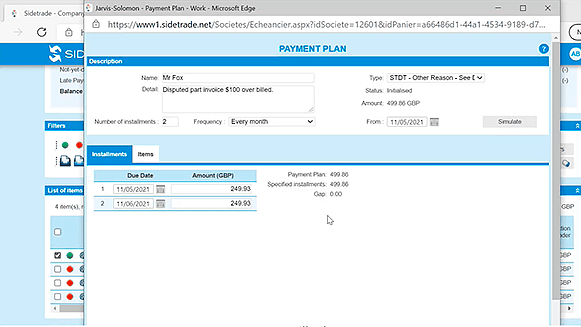 Payment Plan
Sidetrade Payment Plan helps you to support your clients by setting up personalized payment instalment plans. When your customers face financial difficulties, offering leniency and flexibility can go a long way towards building great customer relationships and encouraging repeat business. This module allows you to create custom payment plans within the Augmented Cash system to help recover debt in a way that's manageable and fair to your clients, and ensures you get the maximum amount of cash while still reducing bad debts.
With Payment Plan, you can track customer progress towards paying off the final balance, set up specific alerts and workflows related to the payment plan, and adapt your collections tactics to fit your customer's situation while keeping to the agreed payment schedule.
FEATURES
Predict Payment Behavior
Aimie, Sidetrade's award-winning AI, delivers buyer payment predictions with unparalleled accuracy by analyzing a large and complex dataset unique to Sidetrade. This dataset includes insights from your own invoices and history of successful dunning actions, in addition to over 482 million B2B payment behaviors from a wide range of companies across all industries and across the globe. Aimie also takes into account benchmarks from Sidetrade Payment Intelligence (SPi) and Sidetrade Disputes Intelligence (SDi) to deliver precise predictions and sophisticated automation, helping you make data-driven decisions to boost your Order-to-Cash success.
Recommend the Best Dunning Strategies
Aimie continuously learns from your customers' payment patterns as they happen, monitoring success rates and comparing effectiveness of AI suggestions to unaided cash collector actions. This means Aimie's recommendations and predictions are always being refined according to the latest data, allowing you to have confidence in her suggested actions and accounts to focus cash collection efforts.
Automate Manual Tasks
Aimie helps your cash collector team plan their days for maximum efficiency through a daily dashboard and to-do list that centralizes all suggested activities for your collectors. Aimie considers available resources to help balance workload, and frees up collectors' time by automating manual tasks or even completely handling collection actions for chosen buyer segments, allowing your agents to focus on higher value activities.
Automate Email Sorting
Reduce time spent manually categorizing and assigning emails – Aimie uses natural language processing (NLP) to read and understand your inbound emails, assigning them automatically to the right cash collector. This allows you to manage all invoice qualification and customer communication from a single point of access.
Mobile App Access
Sidetrade Augmented Cash is available wherever you are, whenever you need it! Download our mobile application for your financial data at your fingertips. Available for Android and iOS devices, the app gives your finance and sales teams access to critical customer information on the go, including late payments, outstanding balances, and invoices. The app keeps you connected with customers and internal departments to speed up decision-making even when working remotely.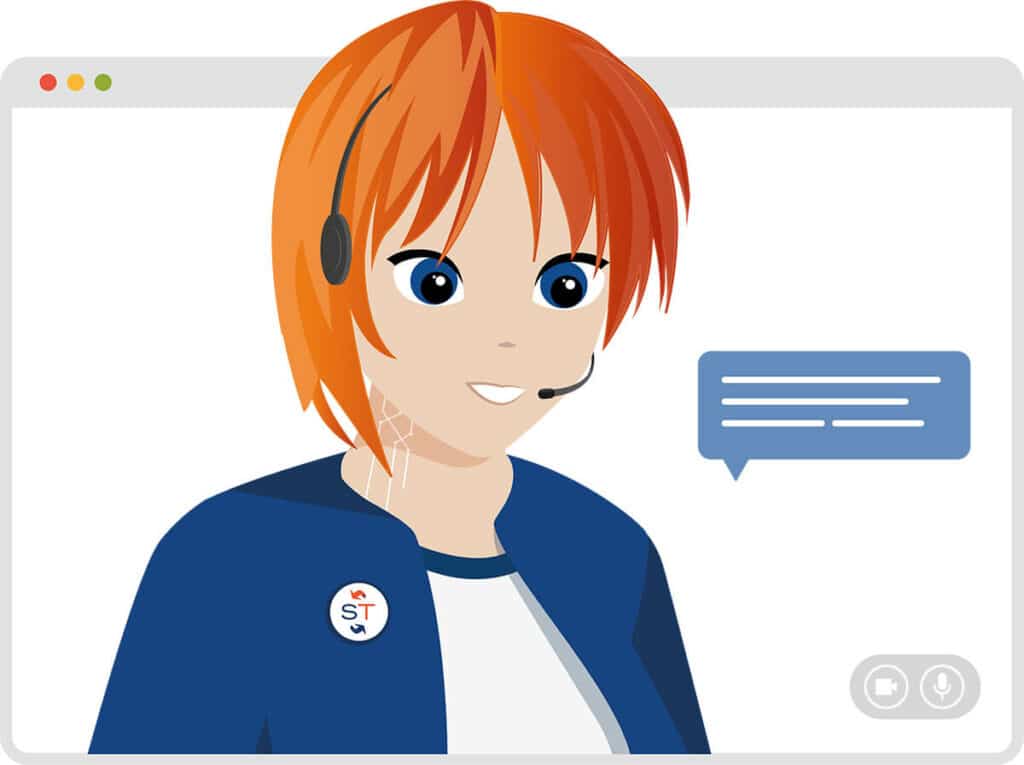 Ready to get started?
Get in touch or watch a demo
Sidetrade operates across all B2B-focused industry sectors. Find out how our AI-driven Order-to-Cash platform helps your peers accelerate cash!