Augmented Collection
Accelerate cash collection with AI-powered accounts receivable software

Aimie analyzes outstanding receivables, successful dunning actions, and payment behavior to recommend the best time to trigger a dunning action with the most effective medium every day, including immediately executable and automatable actions.

The Credit Management team benefits from efficiency improvements of up 53%, and productivity improvements of up to 51% through systematized planning and data-driven AR automation.

Follow the cash conversion cycle in real time. Choose the Augmented Collection module.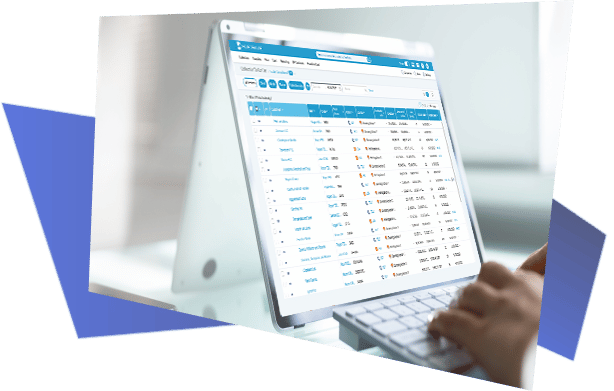 Data-driven, AI cash collection
Integrated with ERPs, Augmented Collection automates collection and leverages artificial intelligence to streamline the Order-to-Cash process and reduce DSO. Aimie generates the best collection strategies based on payment history, customer predictive analytics and team workload. Aimie continuously learns from complex customer and financial data, monitoring cash collection success and benchmarking the effectiveness of AI suggestions to unaided cash collector actions. Free-up the credit management team to focus on tasks that add the greatest value!
Aimie also empowers Credit Managers to:
• Enjoy AI-powered dynamic customer segmentation
• Use predictive insights to solve payment disputes
• Automate query management and qualification
Reduce time spent manually categorizing and assigning customer inbounds. Aimie uses natural language processing (NLP) to read and understand emails and assign each message to the right cash collector, consolidating all customer communication from a single point of access. Aimie processes on average 15,000+ incoming emails per day.
By digitalizing collections, Sidetrade's cash collection software enables teams to work remotely or in-house, and offer an unprecedented level of support, control and transparency to the Order-to-Cash process.
Best AI-powered credit and collections software
Prioritize daily to dos for collectors
Gain real time customer payment insights
Display effective workload planning
Fix inefficiency in the cash collection process
Free up cash collectors' time
Gain 51% in productivity improvements
Augmented Collection features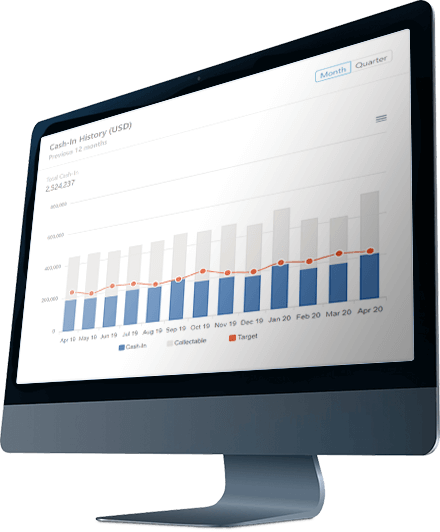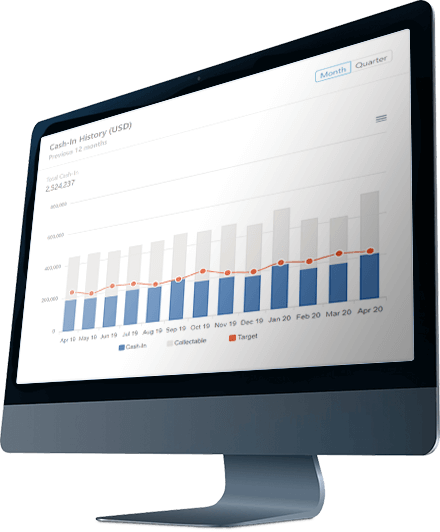 Cash Target
The Cash Target feature helps collection teams keep their eyes on the prize with team and individual cash collection dynamic goals. Credit Managers can easily track the progress against the target. They monitor performance with detailed dashboards, covering targets, total collectable amount, total cleared amount, and total cash in.

Cash Target offers a streamlined AR software to effectively manage and measure collection results.
DISCOVER CASH TARGET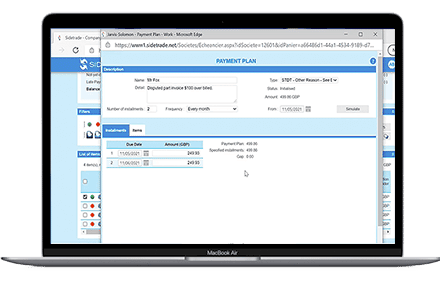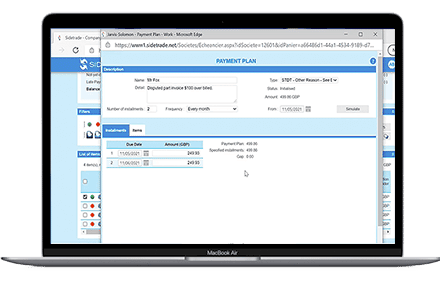 Payment Plan
The Payment Plan feature enables finance leaders to set up instalment plans for clients who may be facing issues with paying invoices on time. Payment Plan creates, validates, and tracks agreed instalments. This feature automatically adapts collection strategies and dunning letters to fit a customer's situation, monitors all customers with an active payment plan, and sends specific alerts to customers and the collections team related to the payment plan.

Maintain great customer relationships offering leniency and flexibility to reduce debts and accelerate cash generation.
DISCOVER PAYMENT PLAN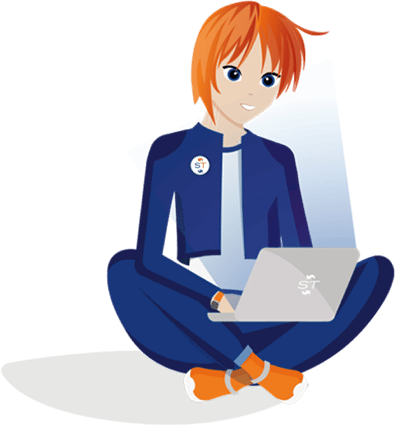 READY TO
GET STARTED?
GET IN TOUCH OR WATCH A DEMO
Sidetrade operates across all B2B-focused industry sectors. Find out how our AI-driven Order-to-Cash platform helps your peers accelerate cash!