Digital Case
Accelerate cash flow with faster dispute resolution.
A formalized and efficient dispute process is critical to accelerating payment, improving customer satisfaction and reducing bad debt. Sidetrade's Digital Case module integrates with Augmented Cash to streamline collaboration across departments, speed up time to resolution, ensure Service Level Agreements are met, and prevents future sales being lost or delayed due to issues. In addition to clear reporting and dashboards to keep you in control of the process, the Digital Case module is powered by Aimie, our AI, to simplify interactions with your customers and accurately filter as many as 70% of dispute-related emails at the point of entry, for increased productivity gains.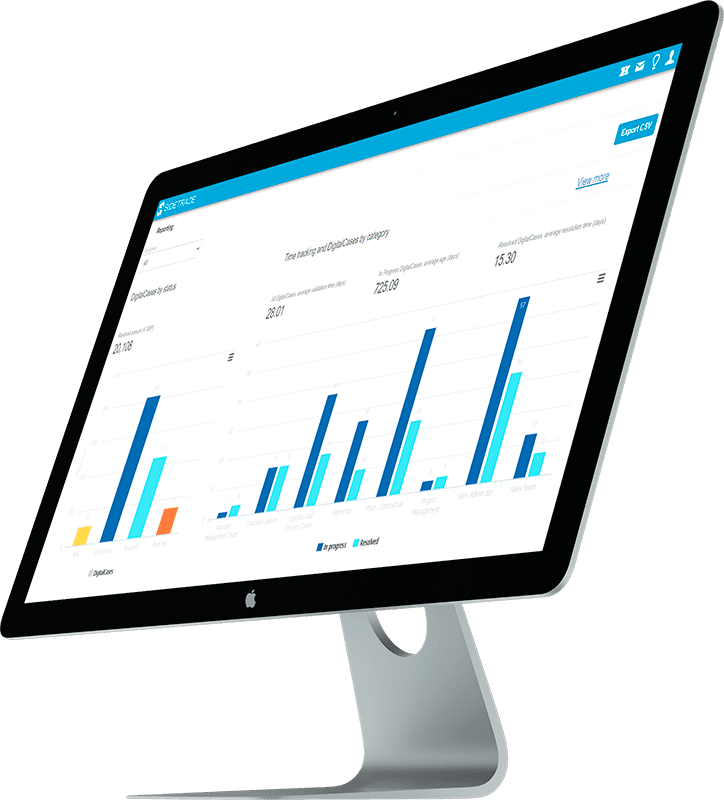 Resolve Disputes Faster and Improve Customer Service
Resolving customer disputes quickly and smoothly improves customer relationships, reduces wasted time dealing with the problem, ensures you keep to your Service Level Agreement (SLA) policy, and prevents future sales being lost or delayed due to long-running issues or customer accounts being locked.
Sidetrade Digital Case allows you to streamline your customer interactions and reduce manual workload. Powered by artificial intelligence, Aimie scans and processes inbound emails and automatically assigns them to the relevant agent, either routing them to an existing case or creating a new one. Aimie is proven to correctly filter as many as 70% of inbound emails, resulting in reduced manual processing and substantial productivity gains.
Over time, Aimie's processing power increases in accuracy, as she trains herself on historical data and absorbs every new customer interaction, to increase accurate account identification and spot patterns in types of complaints. With an integrated dashboard and reporting features, you can gain more insight than ever before into your dispute resolution process and your customers' experience. Additionally, the Digital Case mailbox consolidates all dispute-related communication with customers, providing your internal stakeholders with a comprehensive view of dispute details within the Augmented Cash platform to increase collaboration and reduce time-to-resolution.
Resolve customer payment disputes faster
Increase productivity of your collections staff by automatically assigning inbound emails to the right person based on the account
Streamline communication with your customers by providing an email system directly within Sidetrade Augmented Cash
Simplify case management with a consolidated view of dispute communications across all stakeholders
Measure and report on the quality of your resolution process against your SLAs
Simplify customer dispute resolution from within your Salesforce CRM!
Our Cash Culture Salesforce app helps you promote dispute resolution to all customer-facing staff, by attaching customer dispute details from Digital Case to the customer's record within your Salesforce environment. If you're already using Digital Case, our AI-powered dispute management module, Cash Culture will complement your existing process with enhanced collaboration features to boost the success of your dispute management even further.
With the ability to view dispute information in real-time within Salesforce, your sales or account management teams can proactively investigate the issue and quickly solve the problem – releasing the barrier to payment, keeping the customer happy and unlocking future business opportunity with them.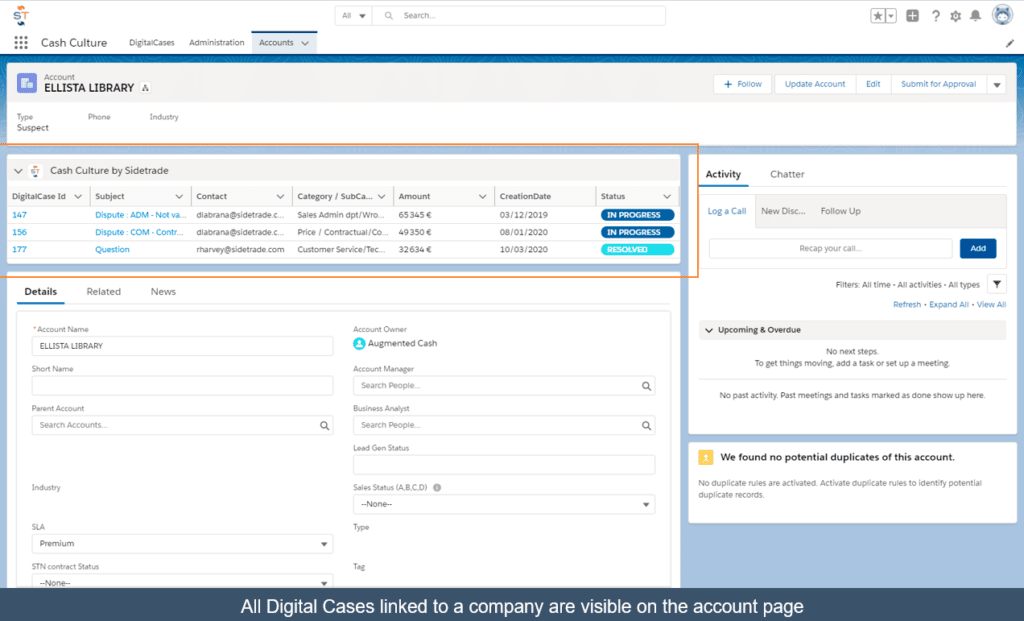 Watch the Video: Digital Case
FEATURES
PREDICTIVE CASE INTELLIGENCE
Aimie, Sidetrade's award-winning AI, processes every inbound email and automatically assigns it to the relevant collection agent and the relevant case. Aimie learns your patterns by training herself on your historical data and each new customer interaction, giving you increased insight into common disputes and how to successfully resolve them.
INTEGRATED MAILBOX
Digital Case brings you closer to your customers, with a mailbox integrated into the Sidetrade Augmented Cash platform to help streamline email communication. Aimie attaches inbound emails automatically to the customer account, and categorizes them according to the type of complaint. All communication sent and received towards the resolution is stored within the case file.
STREAMLINED CASE MANAGEMENT
When a case is created, all relevant details are stored centrally, including the case history, all email exchanges, relevant invoices and the agent managing the case. The system also provides templates to quickly assist with responses, reducing manual processing time.
EXPEDITED RESOLUTION MANAGEMENT
Digital Case offers the ability to merge and reassign cases to other cash collectors. If the necessary, Digital Case can even manage credit memo requests. This information can be sent automatically to your ERP system so that the credit memo can be issued, allowing for a streamlined route to increased customer satisfaction.
INTELLIGENT SLA MANAGEMENT
With Digital Case, you gain a smart tracking system to monitor your dispute-to-resolution times. Alerts can be triggered if cases are not being managed according to your pre-defined timeframes to ensure your cash collectors are meeting your customer service expectations, allowing you to keep to your SLAs and hold your processes to account.
IN-DEPTH REPORTING
Digital Case provides a dashboard to give you visibility into your dispute management KPIs, such as the number of cases by status, category and time elapsed. It also provides details on the average age of all cases and the average resolution time, allowing you to share insights across stakeholders and identify areas for improvement.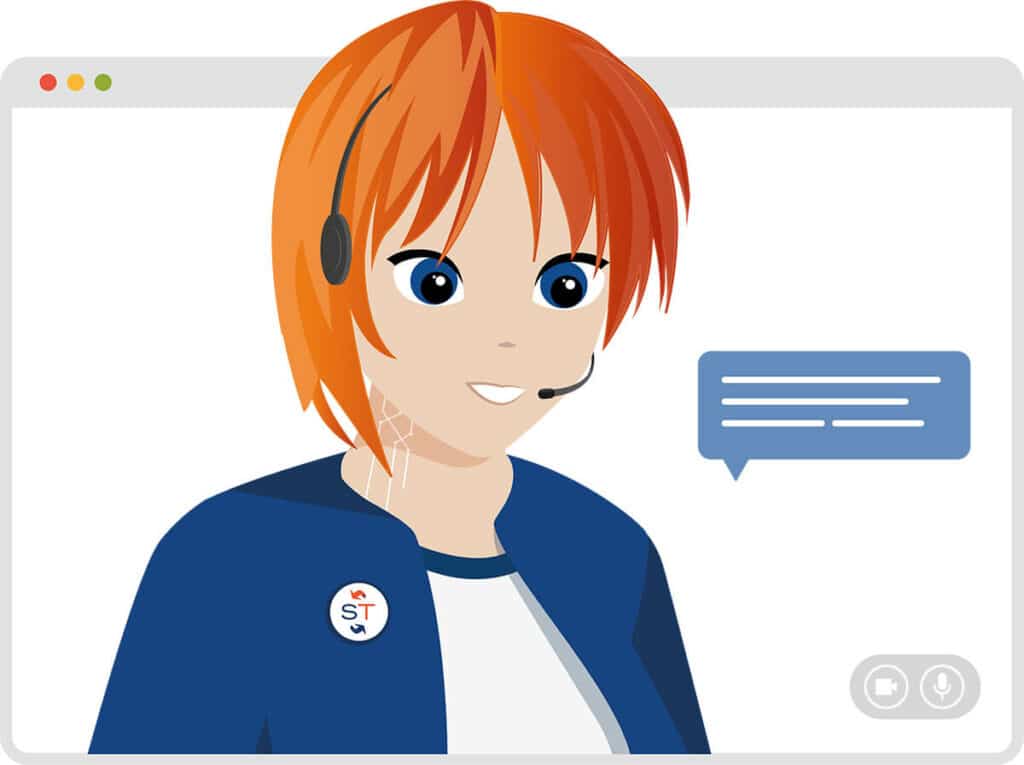 Ready to get started?
Get in touch or watch a demo
Sidetrade operates across all B2B-focused industry sectors. Find out how our AI-driven Order-to-Cash platform helps your peers accelerate cash!