Augmented Cash
Sidetrade's AI-driven Augmented Cash platform accelerates cash generation by improving the efficiency and effectiveness of Order-to-Cash operations. Powered by our award-winning AI technology, Augmented Cash boosts team productivity by automating outbound collection actions and using predictive analytics to identify and recommend the most effective collection strategies, helping you get paid faster.
Intelligent Automation to boost cashflow
Aimie is Sidetrade's award-winning AI technology. Through a combination of artificial intelligence, modelling, and process automation, Aimie is the perfect partner for Finance teams looking to improve the efficiency and effectiveness of Order-to-Cash operations.
Aimie builds on learned insights from over $2.4 trillion in B2B transactions to support Accounts Receivable initiatives through predicting the collection strategies most likely to succeed, using NLP to prioritize collectors' workload, and completely automate outbound actions for chosen segments.
The data that drives Sidetrade's AI
Key to Sidetrade's market leadership is the unrivalled, expansive data network developed over two decades. This network, the Sidetrade datalake, includes insights from:
22+ million buyer companies
482+ million payment transactions
40+ million AI, dunning actions in 2020
$2.4 trillion in B2B transactions
Sidetrade's machine learning engine, Aimie, is constantly learning from this huge network of data, in a continuous global flow of cash from one business to the next. These external insights, coupled with your specific sales and financial data, create Sidetrade Payment Intelligence (SPi), an indicative score that gives you a clear measure of your customers' payment behavior.
You can compare your SPi score with historical industry insight to predict margin for improvement, intelligently segment customers based on cash opportunity or days to pay, and use payment intelligence to expedite the Order-to-Cash process.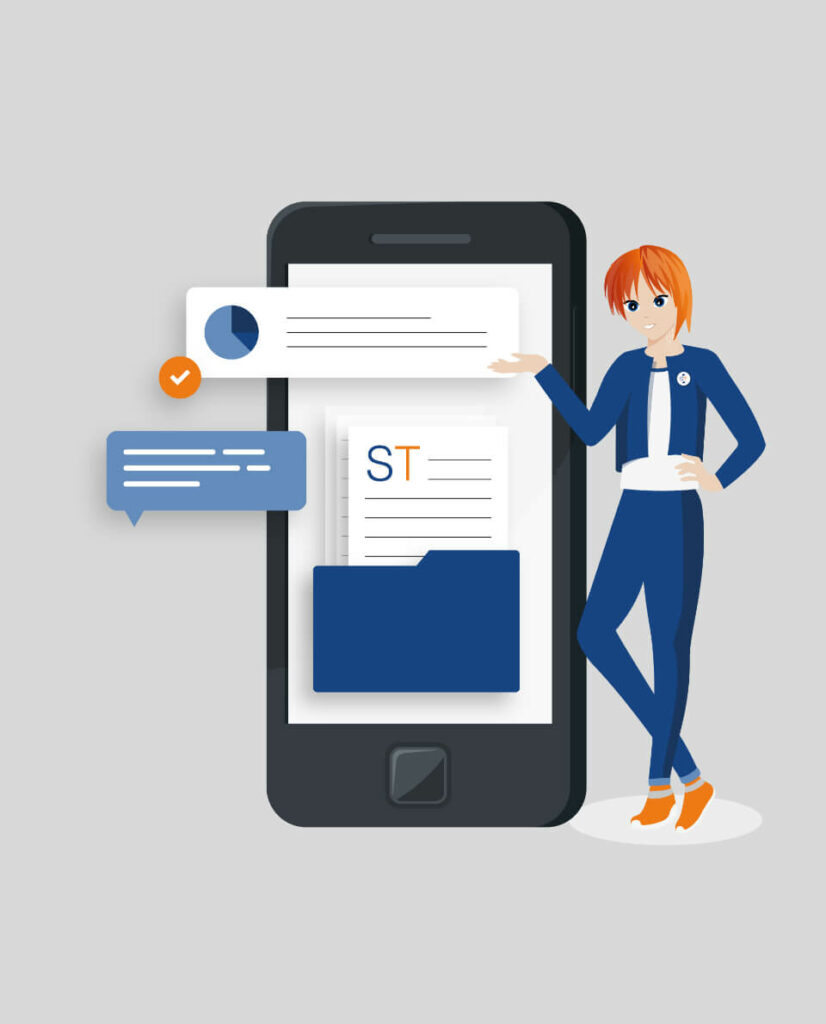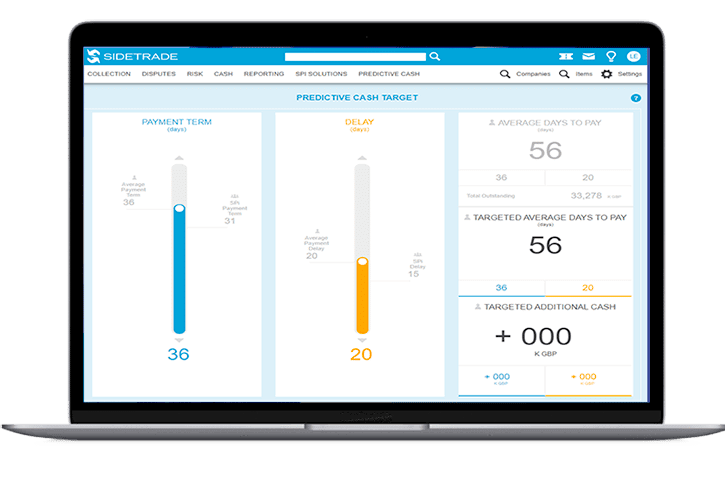 Benefits of Sidetrade's Credit Management Software
Improve the efficiency of your collection department through automation
Boost cash flow, improve working capital, and reduce bad debt
Gain a 360-degree view of customer payment behavior
Increase customer satisfaction by resolving disputes faster
Enhance collaboration between sales, delivery and finance departments
Gain control and visibility of the Order-to-Cash process
Sidetrade Augmented Cash Modules
Cash Collection – Sidetrade Augmented Collection
Augmented Collection enables Credit Managers to set smart multimedia proactive collection strategies, balance workload for collection agents, use predictive insights to solve payment disputes, and automate query management and qualification. Aimie, Sidetrade's award-winning AI technology, recommends the best collection approaches to your team, taking into consideration your available resources and those actions with the highest probability of success..
In addition to intelligent buyer segmentation, Aimie can boost cash collection efficiency by up to 31% by automating manual tasks and auto-sorting emails, freeing up time for the team to focus on more complex value-add tasks.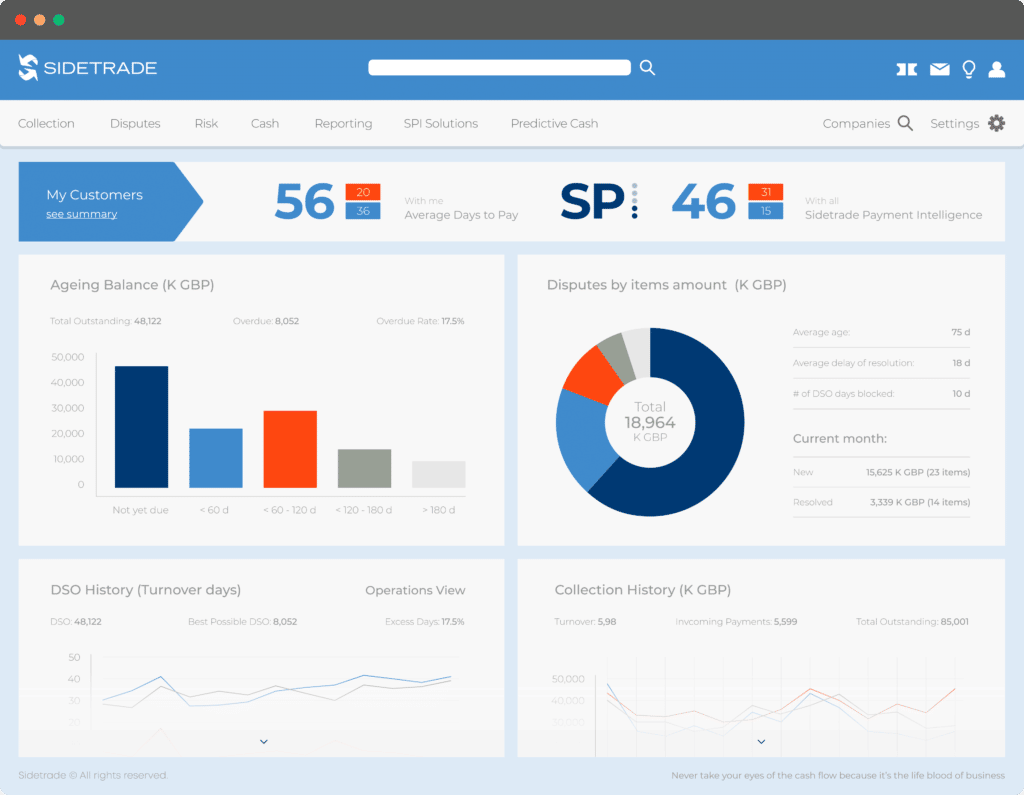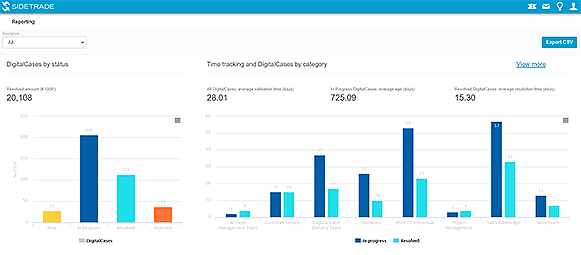 Dispute Management – Sidetrade Digital Case & Cash Culture
A formalized and efficient dispute process is critical to accelerating payment, improving customer satisfaction and reducing bad debt. Sidetrade's Digital Case module streamlines collaboration across departments, speeds up time to resolution, ensures Service Level Agreements are met, and prevents future sales being lost or delayed due to issues. Aimie, our AI, helps you simplify interactions with your customers by accurately filtering up to 70% of dispute-related emails at the point of entry.
If your customer teams use Salesforce CRM, the Sidetrade Cash Culture Salesforce app boosts collaboration further with a real-time window into customer dispute history.
Credit Risk Management
Sidetrade Credit Risk Management provides a complete picture of each customer's risk profile, enabling teams to run business credit checks, and manage credit limits, insurance guarantees and potential disputes. All available customer data is taken into account, from internal payment behavior and financial commitments to external financial information sources like CreditSafe, Ellisphere, Coface, or credit insurers such as Euler Hermes.
This can be shared company wide, helping you make just-in-time decisions based on a comprehensive overview of potential financial risk. It can also be used to inform sales negotiations, collection priorities and dispute resolution processes.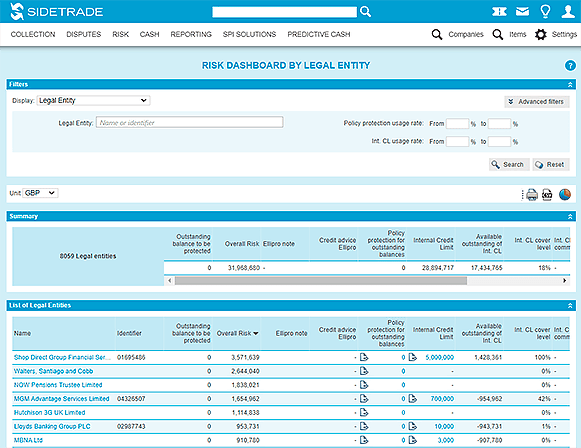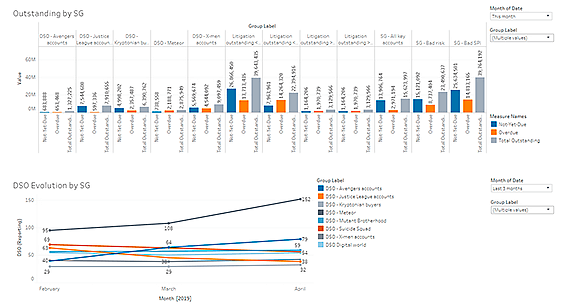 Sidetrade Analytics
Sidetrade Analytics provides Finance leaders with full visibility across the entire Order-to-Cash process, enabling them to increase data-driven decision-making and reduce dependence on Excel. Intuitive, real-time dashboards and flexible reporting powered by Tableau, the leading data visualization and business intelligence solution, allow them to view their organization's cash position at a global, regional and local level, monitor key indicators and drill down into any area of the business if they spot an issue or an opportunity.
Dashboards showing KPIs such as DSO, aging balances, changes in payment behavior, long-term forecasts and credit management team performance can all be extracted and shared to improve cross-company visibility and coordination.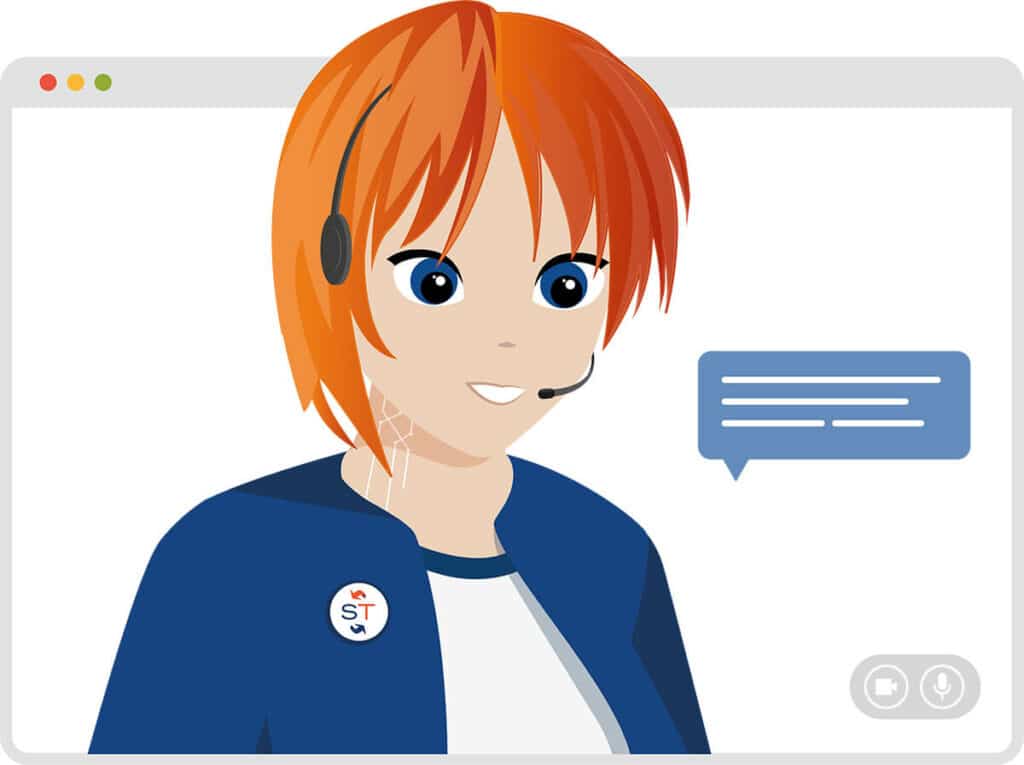 Ready to get started?
Get in touch or watch a demo
Sidetrade operates across all B2B-focused industry sectors. Find out how our AI-driven Order-to-Cash platform helps your peers accelerate cash!