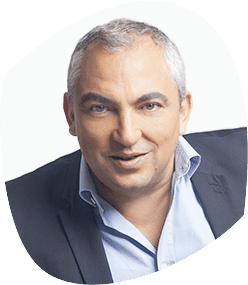 "High-tech companies inventing the world of tomorrow have special responsibility.
We seek to develop a pleasant, stimulating workplace for our employees; we aim to be a good corporate citizen and we strive to promote this attitude in our economic environment."
Olivier Novasque, CEO of Sidetrade
Our contribution to sustainable development
Being responsible also means protecting the environment
Limiting our digital technology footprint thanks to the cloud
By using our own cloud infrastructure, we are more efficient and reduce our carbon footprint. Our infrastructure suppliers comply with ISO 14001.
Adopting responsible hardware and practices
From 70% desktops in 2018, we now have 100% mobile devices in 2020 and have nearly halved our PC energy consumption. With "green coding", we optimize server energy consumption.
Going paperless
We have dematerialized contracts, pay slips, and travel management. We now have electronic signatures for all contract processes, and digital follow-up of accounts receivable.
Implementing selective sorting and intelligent lighting
With the help of specialized partners, we have enhanced selective waste collection. The lighting at our premises uses occupancy sensors, and we are switching over to LED or equivalent bulbs.
Supporting alternative mobility
We promote rail travel and carpooling, and we have Bike to Work schemes, where we help employees purchase bicycles
Compensating for our CO2 emissions
By the end of 2021, between 5,000 and 10,000 trees will be planted in partnership with the NGO Tree Nation. This initiative will enable Sidetrade to offset its direct CO2 emissions for one year.
Our commitment to good practices, to go even further
Sidetrade is faithful to the principles of the United Nations Global Compact (UNGC) and the International Labor Organization (ILO).
Safeguarding confidential information: ISO 27001 certification
Sidetrade is certified ISO 27001, the international IT security standard, for all its information systems and processes.
Acting fairly, transparently and impartially
Sidetrade rejects all forms of corruption in commercial transactions. Our Code of Conduct establishes our policy in matters such as integrity, business ethics, loyalty and transparency.
Responsible procurement
Our suppliers are selected carefully and fairly, according to documented purchasing policy, in accordance with Sidetrade's environmental and ethical values.
Our commitment is recognized
In 2020, Sidetrade was awarded a bronze medal sustainability rating by EcoVadis (EcoVadis Sustainability Rating 2020). We rank above average in our category ("Data processing, hosting and related activities, web portals"), especially for the sustainability themes "Environment, Labor & Human Rights, and Ethics".