How to augment your B2B marketing and sales strategy with AI
This session is a scenario based discussion around Artificial Intelligence (AI) and what that means for Sales and Marketing leaders.
Hosted by two of our in-house experts, it covers how to leverage technology to best match Sales and Marketing strategy roadmaps.
What will you learn?
Gain insights into your customers, using AI so you can identify and understand:
The tangible business benefits of working with AI using real-life case studies
The perfect AI strategy for Sales & Marketing
Things to consider before starting your AI digital transformation journey
Experts
Experts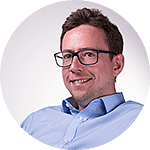 Mark Sheldon
Chief Technology Officer for Sales & Marketing at Sidetrade
Entrepreneur and strategist, Mark is an advanced technology specialist in Predictive Analytics, Machine Learning, Enterprise Architecture and Big Data. He has a strong technical and commercial background with strategic technology account deployment working with board members across the world.
Alex Wood
Global Sales Manager at Sidetrade
Technology evangelist, Alex has a deep experience of innovative solutions solving business challenges to support customers' outcomes. He has a strong experience working across several industries within the Enterprise business landscape globally.