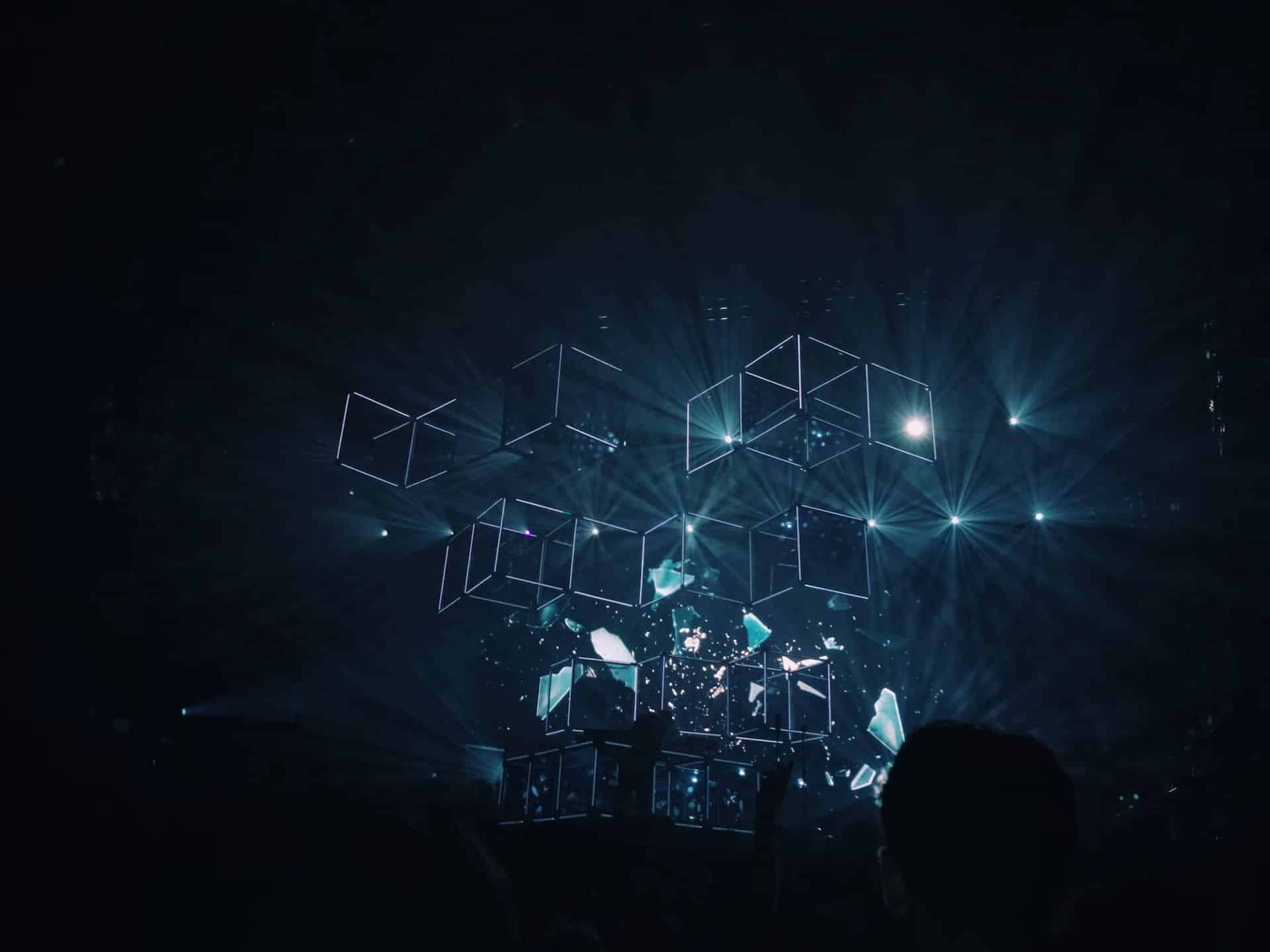 Sidetrade's Solution Enhancements Round-up
Sidetrade's Solution Enhancements Round-up
It seems like there's never a shortage of innovation happening at Sidetrade, and 2022 was no different. The team was busy tackling everything from developing new functionality, improving the user experience, building new products, and enhancing our most popular features. Our passionate product and R&D teams approach every update with the same goal in mind: increasing working capital and accelerating cash flow for financial leaders, and efficiently automating order-to-cash processes for accounts receivable teams using AI-powered technology. 
Here are some of the updates we released in 2022, of which we're most proud. 
Data Lake Public Launch
In 2022, we made global payments trends from Sidetrade's Data Lake publicly available, with an industry-first interactive payment intelligence map. A unique tool within the order-to-cash market, it comprises B2B payment transactions of more than 593 million payment experiences worth a total of $4.6 trillion processed over the last three years from 20.7 million buyers worldwide. The launch provided a free and interactive map with aggregated and anonymized insights from the Sidetrade Data Lake to benchmark against industries, regions, peers and competitors.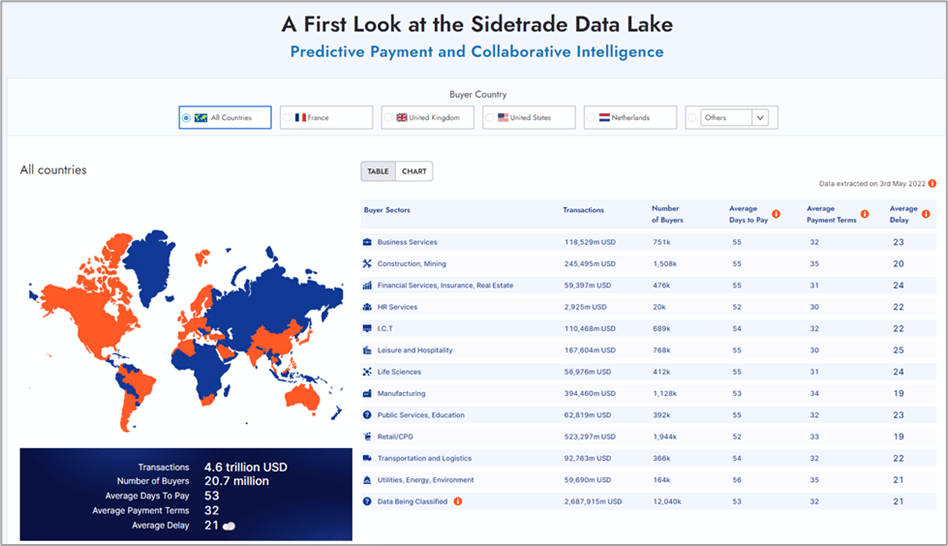 Spotlight on Aimie
Based on customer feedback, we provided a new dashboard to help explain the impact that Aimie, our AI digital assistant, can have on collections efficiency. This dashboard includes additional filters that allow users to drill deeper into their data, such as specific customer segments or organization structures, and surfaces efficiency metrics, number of actions taken per media, month, and company.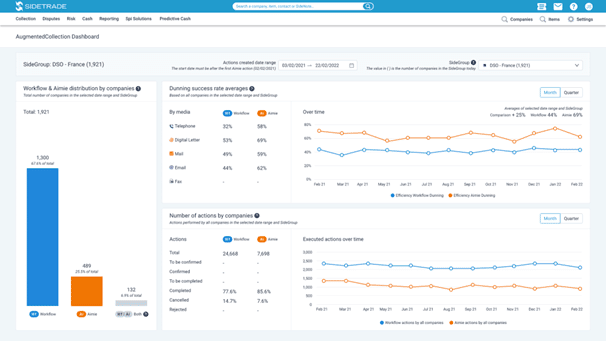 We've also given users more control over their collections' strategies, specifically when applying Aimie, with new configuration options.  
DigitalCase
DigitalCase, Sidetrade's solution for improving dispute identification and management enables suppliers to quickly tackle disputes, improve time-to-resolution, and optimize customer relationships. In 2022, we made several significant enhancements that put the user and customer experience at the forefront. 
Enhanced invoice status visibility within DigitalCase, allowing users to better prioritize where action is needed on open cases

 

Improved the user experience when a DigitalCase is read or marked unread – the status will now be reflected across all users

 

Users can now attach linked PDF invoices to resolved cases

 
Cash Application
Sidetrade's Cash Application solution streamlines and accelerates revenue recognition by automatically matching complex, unstandardized payment information from multiple sources. This is especially important when unallocated cash is a business challenge, or if cash application managers and analysts are struggling with manual processes, accuracy, and reconciliation.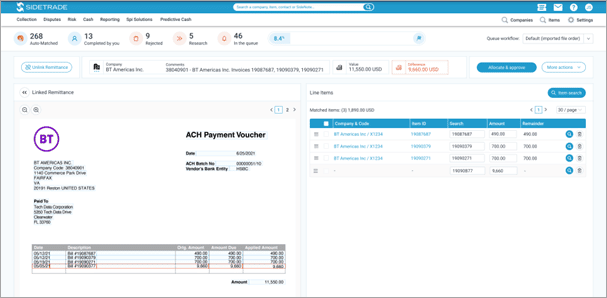 In 2022, we've made the following updates to our cash application solution: 
A new reconciliation dashboard that gives users a detailed view all imports and exports out of the system

 

Improved the searching and filtering experience for open receivables 

 
More efficiently surface exceptions

 
What Else?
Expanded international information through our Creditsafe API 

 

The ability to target accounts and adapt collections strategy based on number of open invoices

 

See invoice delivery status within the

Augmented Collections

interface

 

Added a "click-to-call" functionality, which allows a telephone number to be called directly from within the platform when a browser-based telephony system is available

 

Improvements to the administrative settings page with easier navigation and an updated look-and-feel

 

Provided users with the ability to receive a statement of their account in Excel format attached to their dunning emails

 

Redesigned the Collector homepage and the "Follow-Up of Current Actions" screen, enabling collectors to see the actions assigned to them, broken down by aged buckets and categorized by step and media, to help better understand where to prioritize efforts 

 

The Actions Progress allows the collectors to see the progress they are making throughout the day

 

Administrators will be able to see data for all users, whilst credit managers will be able to see the data of their team.

 

Send multiple invoice copies in a single email

 

Additional languages made available for our interactive dunning template, Digital Letter

 

General user experience updates 

 
Thank you to all of our wonderful customers for their candid and enthusiastic feedback! We can't wait to bring you more enhancements and solutions in 2023! 
If you have any questions or would like more information, please reach out to your Customer Success Manager.