Sidetrade's Payment Plan is an add-on module for our Augmented Cash collection system, which allows you to set up instalment plans for your clients who may be facing financial difficulties, particularly in the wake of the COVID-19 crisis.
Support your customers with personalized payment plans! Help your customers and keep your own cash collection systems afloat with the new solution, an Augmented Cash module from Sidetrade. In these challenging times when your customers may be facing financial difficulties, this module allows you to create custom payment plans within the Augmented Cash system to help recover debt in a way that's manageable and fair to your clients and ensures you get the maximum amount of cash while reducing bad debts.
Request a demonstration of our Payment Plan module.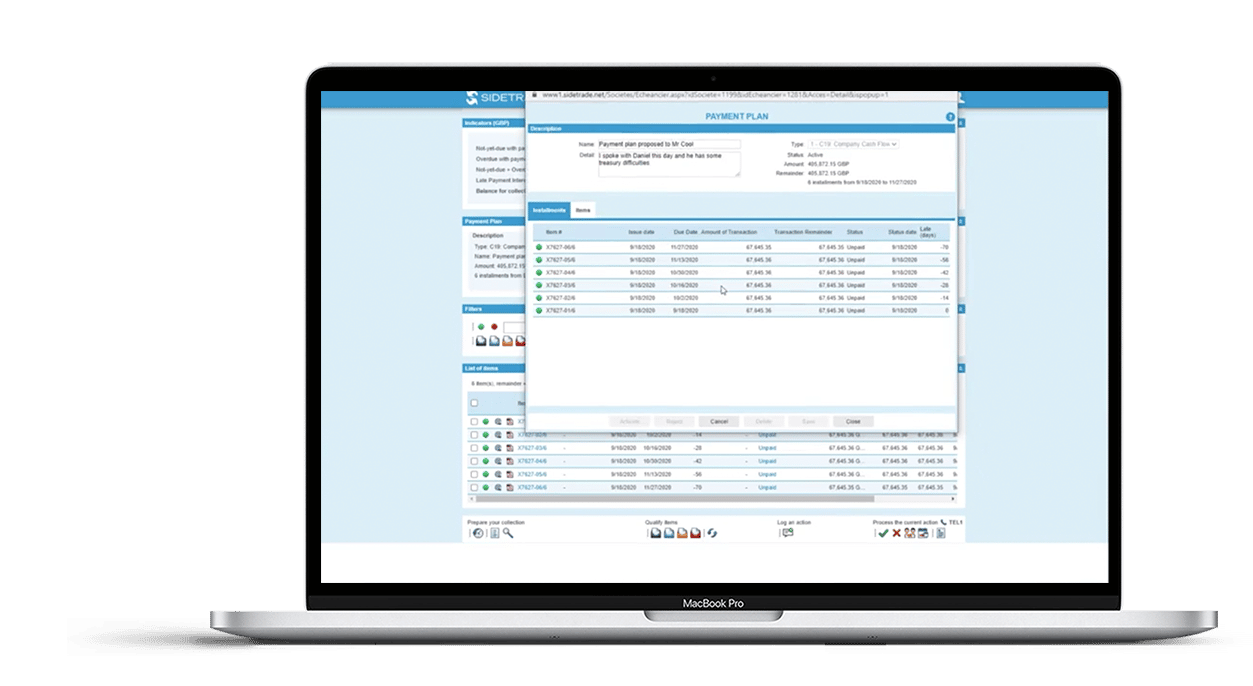 Payment Plan is part of our Augmented Cash collection system, which helps companies quickly and easily secure and manage their collection process fully online.
Payment Plans allows your credit management team to track and monitor progress towards paying off the final balance, set up specific alerts and dashboards related to the payment plan, and adapt the collections strategy for the customer account as needed. For each account with a payment plan set up, your collections team can set up confirmation and reminder emails, as well as specific workflows, to help you manage the agreement with your customer and keep to the schedule.
About our Augmented Cash solution
Augmented Cash from Sidetrade is a SaaS accounts receivable automation solution that improves your credit management performance by predicting the best strategies for securing prompt payments, settling disputes faster and reducing credit risk to accelerate cash collection.